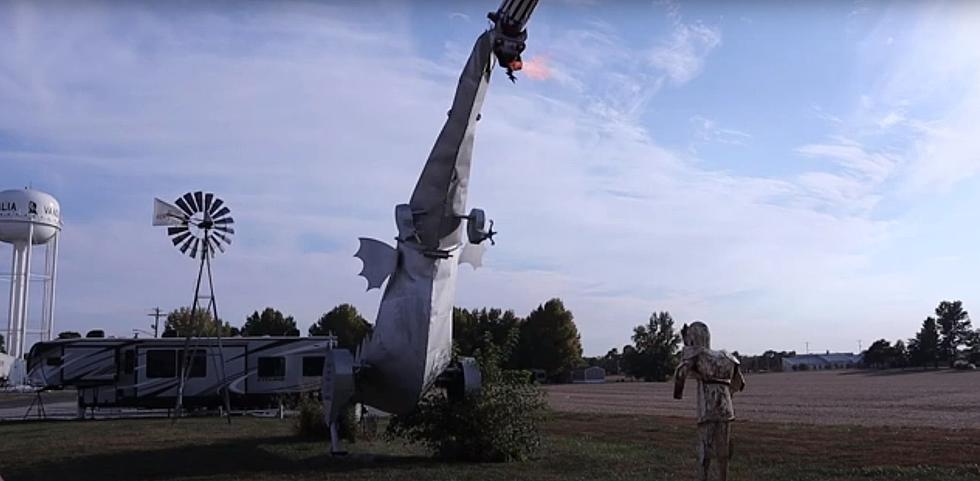 Watch as the Huge Fire Breathing Dragon in Illinois comes to Life
YouTube/Adventures in TV-Land
A YouTuber caught a video of the giant fire-breathing dragon in Illinois and it is something else, why haven't I been to visit this roadside attraction yet?
The video is from a YouTube channel called Adventures in TV-Land and on his YouTube page, the host says...
"I like to travel and go on adventures. I'm currently based in Illinois, not far from St. Louis. I enjoy roadside attractions, Americana, historical sites, theme parks, and quirky places of interest. Although I tend to focus on travel, history, literature, theatre, and film, my interests are vast."
The guy seems to have a good following and tons of videos of him exploring roadside attractions. This video caught my eye though because I first heard about the Kaskaskia Drago a couple of months ago and wrote all about it (to read that article click here!), and I still haven't been out to see the dragon for myself yet!
I find it really cool that things like the Kaskaskia Drago exist all over the United States, average Americans get a chance to show off their own creativity and also bring some tourism to their small parts of the country. When you see videos like this one, where people are just enjoying these roadside attractions, it makes me really nostalgic for a good old-fashioned road trip like the ones my parents use to take me and my siblings on when we were young.
The Kaskaskia Dragon is about 180 miles from us here in the Quincy area, so it wouldn't be a bad drive at all, just gotta take a weekend trip out there!
LOOK: 15 Discontinued McDonald's Menu Items
LOOK: Here is the richest town in each state
Just saying the names of these towns immediately conjures up images of grand mansions, luxury cars, and ritzy restaurants. Read on to see which town in your home state took the title of the richest location and which place had the highest median income in the country. Who knows—your hometown might even be on this list.
More From KICK AM, Classic Country