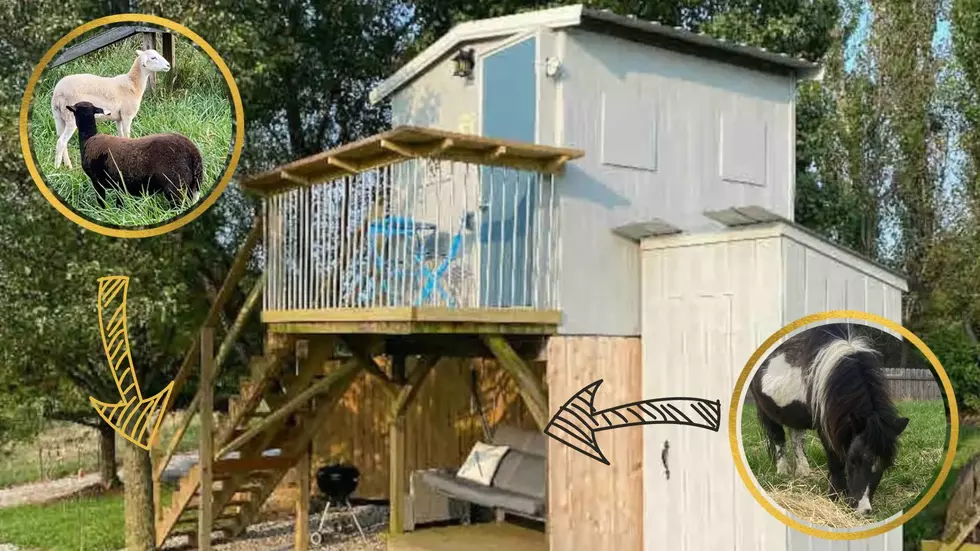 This Teeny Tiny Missouri Home Has Tiny Goats and Tiny Ponies, Too
Tiny home hosted by Anita, Airbnb/Canva
If you get all warm inside when you think of teeny tiny things, I found a place in Missouri you can stay at that also has teeny tiny animals like goats and ponies, too.
The super-small Airbnb is located near Jamestown, Missouri hosted by Anita. It's a quiet country area where you will not feel lonely thanks to the many animals who are present. Prepare to meet Waffles, the goat...Daisy, the miniature horse...plus Snow White and White Tail, the sheep.
This Teeny Tiny Missouri Home Has Tiny Goats and Tiny Ponies, Too
Here's a snippet of how Anita describes her space:
The Tiny house is a one room (64 sq ft.) experience with a comfy double bed. The house is equipped with a hot & cold filtered water dispenser, microwave, mini fridge (tiny freezer), heat & AC. The little terrace is perfect for breakfast while gazing over a beautiful view of the lake. There is a dock by the lake perfect for fishing. We have beautiful garden walkways and sitting areas. There is a fire pit and sitting area with a porch swing as well as an observation deck from which you can see the whole property. It's the perfect spot for stargazing. We have a few goats, sheep, rabbits and the neighbors have very friendly dogs.
She says they are a very pretty 30 minute drive to Columbia and about 20 minutes to Roche Port, Missouri. As of this writing, the nightly cost is just $55 which sounds like a bargain to me. There are even more pics, details and updates on the complete Airbnb listing.
See a Cabin and Lake Hidden Away in the Woods Near Camp Point
More From KICK AM, Classic Country