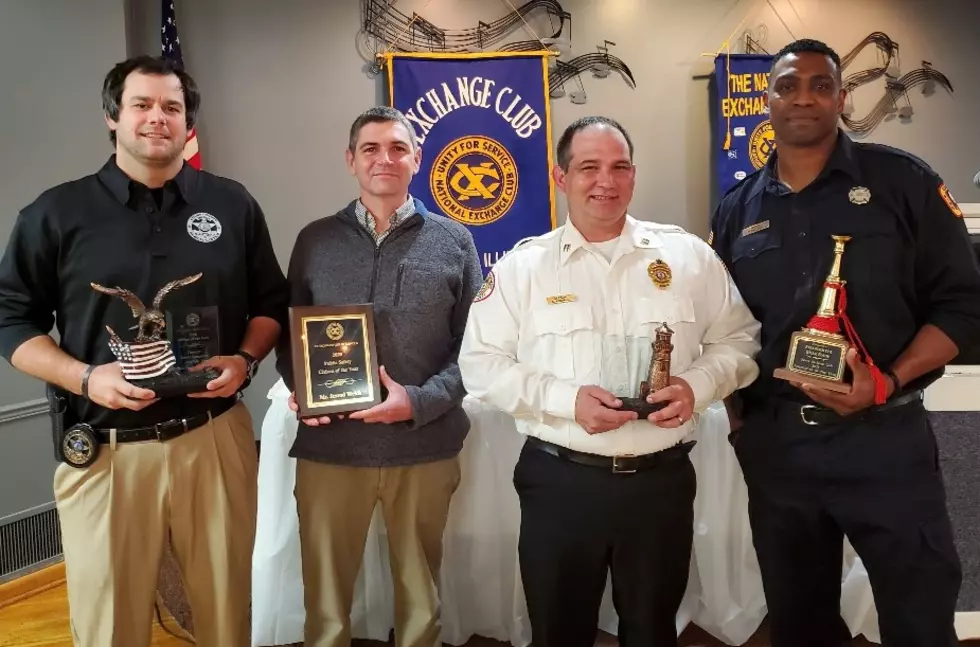 Quincy Exchange Club Honors These First Responders
Jared Summers, Jarrod Welch, Kasey Kendall & Michael Dade....Photo: Jeff Dorsey
Last Friday the Quincy Exchange Club honored the "First Responders" in our area at an awards presentation held at the Elks Lodge in Quincy.  All recipients of awards were selected by their peers in their own departments.
This year's Law Officer of the Year award went to Adams County Sherriff's Department Deputy Jared Summers. Summers was involved the arrest of a murder suspect and was shot at during his apprehension.  He also performed CPR on 3 separate people during the pandemic year.  ACSD Chief Rich Wagner introduced Summers and one of the CPR recipients Amber Feldner presented the award.
The Firefighter of the Year award was presented to Michael Dade of the Quincy Fire Department.  Dade has continually enrolled in upgraded classes involving fire fighting over the past several years and as a result he has served as a state instructor for various fire departments in Illinois. Dade has, for several years, designed an annual fire department t-shirt to sell with proceeds going to the Blessing Breast Cancer Center.  Dade was presented the award by QFD Deputy Chief Steve Salrin.
This year's recipient of the Emergency Management Services Professional of the Year award was Captain Kasey Kendall.  Kendall, during the early stages of fighting COVID-19 was put in charge of making sure all frontline workers had the proper masks and equipment needed to fight the onslaught of Coronavirus in our area. All masks, to be effective, needed to be properly fit and Captain Kendall stepped up to complete the task of measuring all involved who would need these masks to fight COVID-19. Adams County Emergency Management Services Director John Simon presented Kendall with his award.
And lastly, the 2021 Citizen of the Year award went to the Director of the Adams County Health Department, Jarrod Welch.  Welch had, and still has, the dubious honor of making some extremely difficult decisions involving public activity during this pandemic. Many of those decisions weren't popular, but his direction has led to Adams County to being a model county in fighting COVID-19 and has helped this community to see the light at the end of the tunnel in fighting this pandemic. Welch was presented the award by Tri-Township Fire Department Chief Tom Bentley.
Congratulations to all of the award recipients!
."}" data-sheets-userformat="{"2":33567489,"3":{"1":0},"11":4,"12":0,"15":"Arial","16":10,"28":1}">
Beware of These 50 Jobs That Might Vanish in the Next 50 Years
More From KICK AM, Classic Country