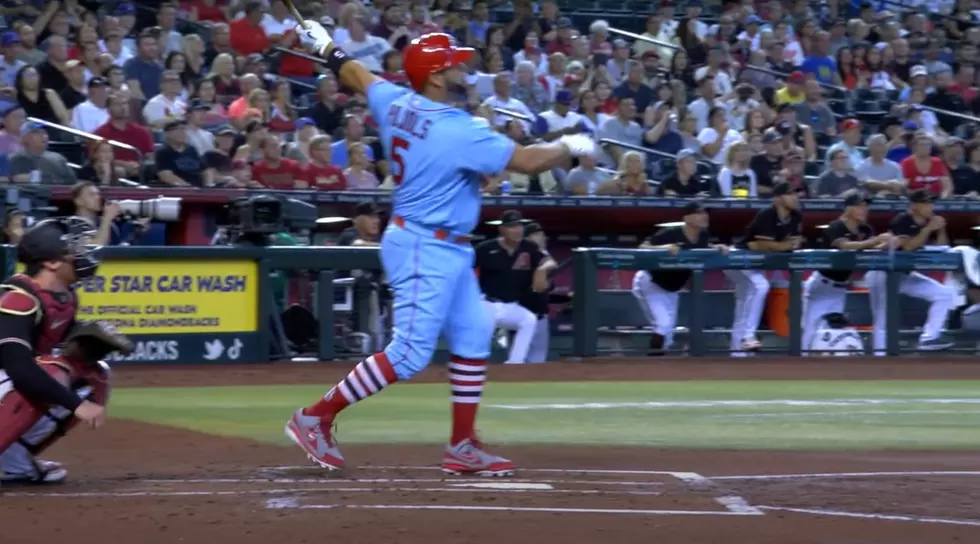 Cards Albert Pujols Doesn't Care About 700, Still Plans to Retire
MLB via YouTube
Baseball is all about numbers. Historians and fans pour over them with an obsession that is greater than virtually any other sport. One who is not included in that number is St. Louis Cardinal Albert Pujols. Despite the fact that he's approaching 700 career home runs, he still plans to retire no matter where he ends up.
It's no secret that Albert Pujols has been one of the hottest hitters since the All-Star break in July. Just this past week alone, he clobbered nearly a half-dozen balls over the fence. Here is a supercut of the latest versus Colorado and Arizona.
Albert is now only 4 behind Alex Rodriguez who ended his career at 696 and only 8 away from the hallowed 700 mark. Would he consider coming back for one more year? According to USA Today, that answer is no. Bob Nightengale of USA Today quoted Albert saying this about his continued hot streak and what that might mean for the future:
"I'm still going to retire, no matter whether I end up hitting 693, 696, 700, whatever,'' Pujols said, via USA Today. "I don't get caught up in numbers. If you were going to tell me 22 years ago that I would be this close, I would have told you that you're freakin' crazy. My career has been amazing.''
Numbers are just numbers to Albert Pujols. What Albert Pujols wants more than anything is a championship for the St. Louis Cardinals and their fans. The path to that goal may very well take him to 700 home runs and above. The number just won't affect his decision that this is his last year in a MLB baseball uniform.
Inside Yadier Molina's St. Louis Mansion
More From KICK AM, Classic Country