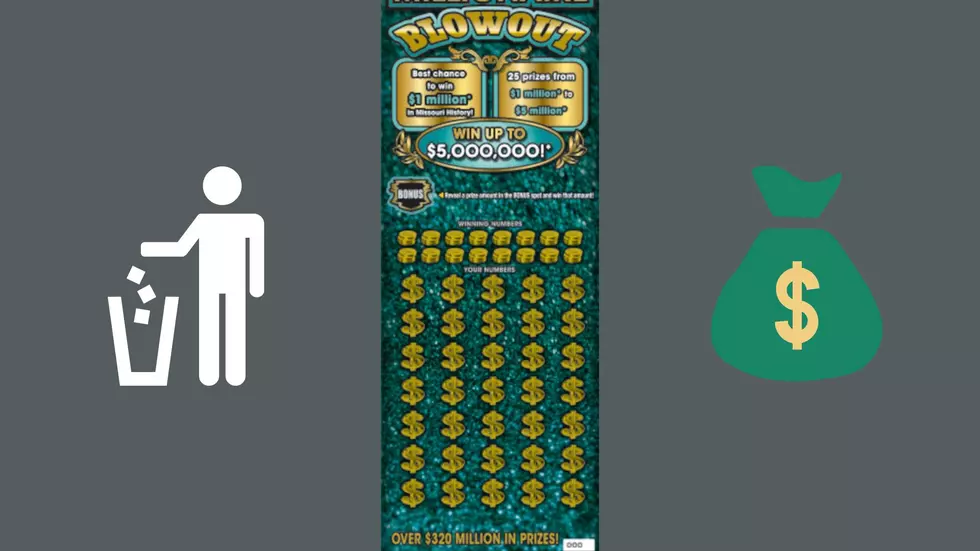 Missouri Woman Nearly Throws Away Million Dollar Lottery Ticket
Missouri Lottery/Canva
Talk about doing something that you'd regret pretty much ever. A woman bought lottery tickets and kind of forgot about them. A few days later, she was getting ready to throw out trash when she decided to check the tickets one more time. It's a good thing she did as one just won her a million dollars.
The Missouri Lottery shared this story via a press release on their website. The so far unnamed woman stopped at the 7-Eleven at 6197 Lemay Ferry Road in St. Louis. During that stop, she picked up a few Millionaire Blowout tickets. They sat in her car for a few days.
She was getting ready to throw out trash in her car when she decided to stop and check her tickets. She tells the story herself. "I stopped at the gas station to check my ticket, just to make sure I wasn't throwing away any winners," she said. "I scanned the ticket, and it said I won $1 million, visit the Lottery office."
For the record, this is the ticket she's talking about.
The Missouri Lottery says this ticket can win a player anywhere from $50 to $5,000,000. For one Missouri woman, it now means she's a millionaire (before taxes, sorry). That's one instance in her life where not throwing out the trash made her dreams come true.
See Inside a Ritzy Branson Treehouse for the Rich & Famous
19 Missouri Restaurants Featured on Diners, Drive-Ins and Dives
More From KICK AM, Classic Country