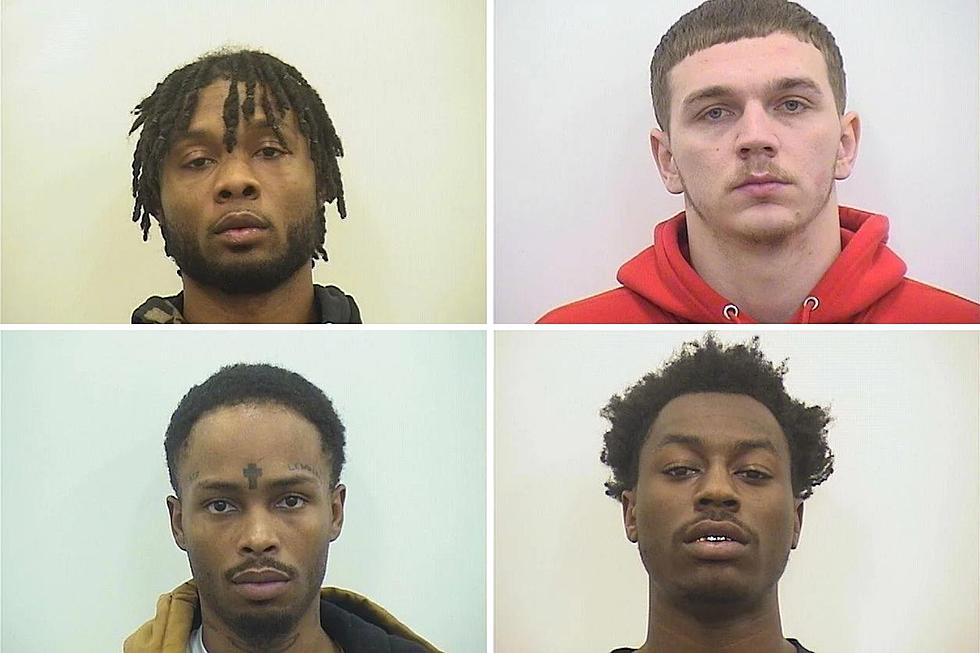 Four Arrested in Quincy Police Ongoing Shots Fired Investigation
Quincy Police Department
Four Quincy men are in custody as the result of a Quincy Police investigation into multiple shots fired reports in February.
24 year old Nicholas Strieker is charged with burglary, possession of a controlled substance and was wanted an Illinois Department of Corrections parole violation warrant.
Streiker's arrest is for a burglary to a business in Marceline, Illinois in September of 2021, resulting in damage to the business and the theft of cash.
19 year old Zarious Smith-Palmer is charged with armed violence, aggravated use of a weapon, possession of a controlled substance and an unrelated warrant.
Smith-Palmer's arrest came as the result of a traffic stop at 5th and Maine. A search uncovered a loaded handgun, which will be submitted for testing to see if it is connected to recent shooting incidents.
27 year old DuQuan Smiley is charged with aggravated discharge of a firearm, and 19 year old Xavier Clark is charged with aggravated discharge of a firearm, possession of a controlled substance and an unrelated warrant.
Smiley and Clark were arrested in connection with an incident in August of 2021 at 5th and Locust in Quincy, when occupants of a vehicle reported they were shot at and their vehicle was hit multiple times, with one person inside the car being struck.
Quincy Police reports these arrests are not for the February shots fired incidents, but came as the result of information gathered during the ongoing investigation.
Strieker, Smith-Palmer, Smiley and Clark are lodged in the Adams County Jail.
The 17 Quarterbacks That Have Played For the Bears During Aaron Rodgers' Career In Green Bay
It's fair to say that there has been a difference in quality at the most important position in sports for these two historic franchises.
LOOK: Here are the best lake towns to live in
Many of the included towns jump out at the casual observer as popular summer-rental spots--the Ozarks' Branson, Missouri, or Arizona's Lake Havasu--it might surprise you to dive deeper into some quality-of-life offerings beyond the beach and vacation homes. You'll likely pick up some knowledge from a wide range of Americana: one of the last remaining 1950s-style drive-ins in the Midwest; a Florida town that started as a Civil War veteran retirement area; an island boasting some of the country's top public schools and wealth-earners right in the middle of a lake between Seattle and Bellevue; and even a California town containing much more than Johnny Cash's prison blues.
More From KICK AM, Classic Country