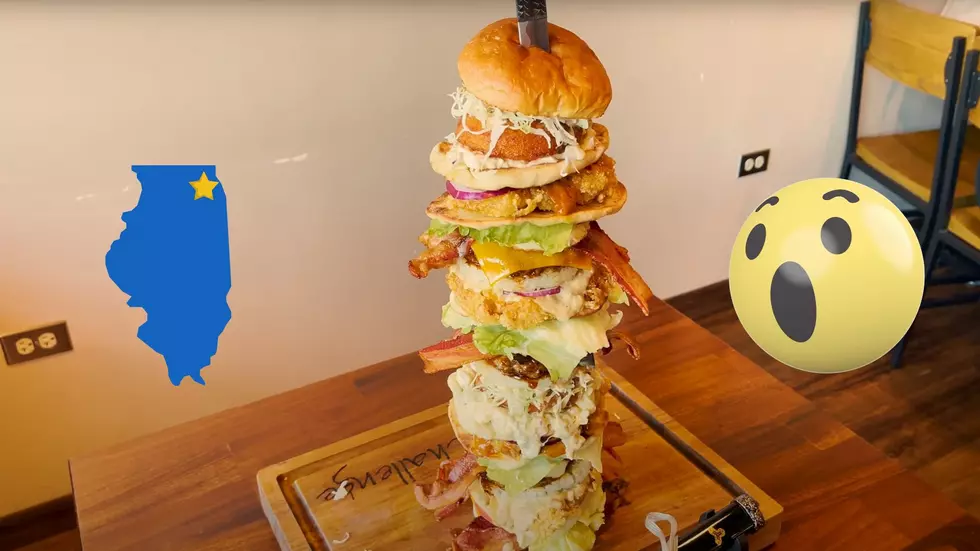 Could You Handle this Illinois 55-Layer Samurai Burger Challenge?
Randy Santel via YouTube/Canva
Do you think your stomach could handle a 55-layer burger? If so, it's free at this Illinois burger joint. If not, it's gonna cost you big time.
Thank you Only In Your State for bringing this epic burger challenge to my attention. This incredible food monolith is Gabutto Burger's 55-Layer Japanese Samurai Burger Challenge. Food Challenges lays out the facts of what you're up against. A famous food challenge YouTuber shared what he attempted to consume:
30 short minutes to feast on a five of their delicious burgers from the menu, each doubled, so there were 10 burgers total. There were 2 different beef burgers, 1 premium shrimp burger, and 2 different chicken burgers. I was trying to become the 4th person to win my $60 burger meal free plus a sweet t-shirt, a commemorative samurai sword, and a spot on the Wall of Fame.
Watch this and see if you're reaching for the Tums.
I won't spoil it for you, but suffice it to say that this guy now has a new t-shirt and trophy to show off. OK, so I guess I spoiled it just a little bit.
You can check out the official rules and results (and menu) from this fine Elgin, Illinois burger place. Leave it to an eatery in Illinois to combine massive amounts of burgers with a samurai sword. John Belushi would have been so proud.
See Inside a 25 Acre Missouri Horse Ranch with Basketball Court
More From KICK AM, Classic Country