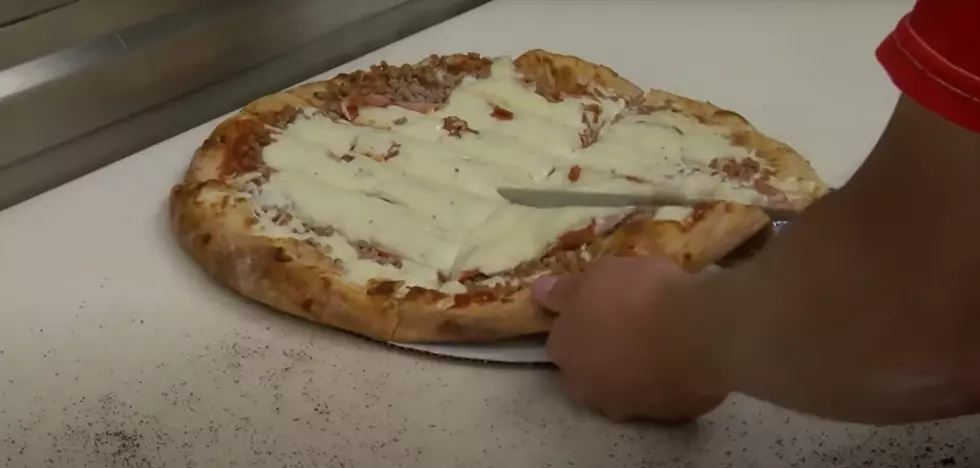 What is this pizza cut with scissors found in Illinoi & Iowa?
YouTube/WGN News
Illinois is famous for its Chicago-style Deep Dish pizza BUT there is a pizza famous on the border of Illinois and Iowa that you have probably never heard of, and it looks absolutely delicious!
I found this video on YouTube posted on the WGN News channel about this unique style of pizza found on the border of Illinois and Iowa called Quad Cities Style Pizza, and I now need to try it. The video describes the pizza as being made famous in the Quad Cities which is an area of four towns that all border the Mississippi River in Illinois and Iowa, the towns are Davenport and Bettendorf in Iowa, and Rock Island and Moline in Illinois.
I wanted to learn more about the Quad Cities style of pizza so I did a quick Google search and found the website pizzaneed.com, they say the things that make the Quad Cities style of pizza unique are the dough and sauce usually have some crushed red pepper flakes and even cayenne pepper that adds some heat, they build the pizza crust, sauce, then toppings, and lastly cheese (basically using the cheese like a blanket to cover the toppings), and finally they cut the pizza with giant scissors as you see in the video above, and the pizza comes in strips, not squares or triangles.
I would love to see a Quad Cities style pizza place open in Quincy, the video points out that Quad Cities style usually has a lot more toppings on their pizzas making them more of a meal, almost like a stepping stone between regular pizza and deep-dish pizza.
LOOK: Best Beers From Every State
To find the best beer in each state and Washington D.C., Stacker
analyzed January 2020 data from BeerAdvocate
, a website that gathers user scores for beer in real-time. BeerAdvocate makes its determinations by compiling consumer ratings for all 50 states and Washington D.C. and applying a weighted rank to each. The weighted rank pulls the beer toward the list's average based on the number of ratings it has and aims to allow lesser-known beers to increase in rank. Only beers with at least 10 rankings to be considered; we took it a step further to only include beers with at least 100 user rankings in our gallery. Keep reading to find out what the best beer is in each of the 50 states and Washington D.C.
More From KICK AM, Classic Country