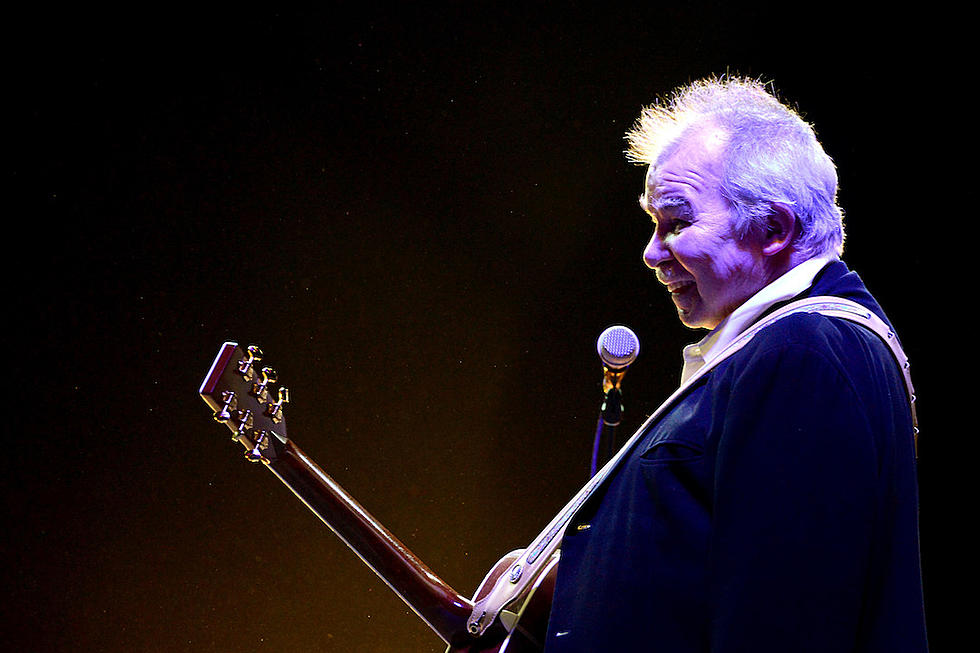 Frazer Harrison, Getty Images
Since the release of his self-titled debut album in 1971, John Prine amazed fans and critics alike with his ability to put the world in a song. One of the greatest songwriters of our generation, Prine's ability to portray the truest aspects of life have been lauded by artists such as Bob Dylan and Jason Isbell, and institutions including the Americana Music Association, the Nashville Songwriters Hall of Fame and, more recently, the Songwriters Hall of Fame, the Rock and Roll Hall of Fame and the Recording Academy.
Whether he was telling the tragic story of a war veteran struggling with drug addiction in "Sam Stone" or exploring the passing of time in "Summer's End," Prine made a name for himself with lyrics that are full of vivid imagery, witty wordplay and, sometimes, just a bit of snark to keep us guessing. For almost 50 years and through two dozen albums, Prine proved time and again to be one of the best storytellers in any genre of music.
Scroll down to discover The Boot's picks for Prine's Top 10 songs:
10

"You Never Even Called Me By My Name"

From David Allan Coe's 'Once Upon a Rhyme' (1975)

Although "You Never Even Called Me By My Name" wasn't originally recorded by Prine, its imagery and humor are classic tropes of the Americana legend. Recorded by Coe on his fourth album, Once Upon a Rhyme, the song is known not just for giving Coe his first Top 10 single, but also for its hilarious lyrics, which are equally self-aggrandizing and self-deprecating. Describing itself as "the perfect country and western song," "You Never Even Called My By My Name" established both Coe and Prine as country music outlaws, providing a satirical look at the country music industry and fame in general.

9

"Illegal Smile"

From 'John Prine' (1971)

The first song off of his first album, "Illegal Smile" introduced the world to Prine's clever humor and inclination to storytelling through song. Juxtaposing a hard-knock life with the narrator's ability to smile through it all, Prine said that the track is about the fact that, ever since he was a child, "I had this view of the world where I can find myself smiling at stuff nobody else was smiling at." And when you hear a lyric like "Bowl of oatmeal tried to stare me down … and won," how can you not smile?

8

"Mental Cruelty"

From 'For Better, or Worse' (2016)

Prine's 2016 album For Better, or Worse is full of vintage country duets sung alongside some of the most popular female artists of our time, from Americana darlings such as Amanda Shires to country-pop mainstays including Miranda Lambert. Every track on For Better, or Worse sticks out in its own way, but none perhaps as much as "Mental Cruelty," for which which Prine teamed up with Kacey Musgraves. The clever back-and-forth between Prine and Musgraves perfectly encapsulates the sly, winking banter that both artists have become known for, making it the perfect song for their collaboration.

7

"Angel From Montgomery"

From 'John Prine' (1971)

One of two songs on Prine's self-titled 1971 debut album that chronicles growing older, "Angel From Montgomery" has become one of the Americana icon's best-loved songs (thanks, in part, to Bonnie Raitt's iconic cover of the track, released in 1974). Prine said he wrote the song based on a "vivid picture of this woman standing over the dishwater with soap in her hands, and just walking away from it all … She wanted to get out of her house and her marriage and everything. She just wanted an angel to come take her away from all this." Mixing traditional country and a gospel-like organ backing, "Angel From Montgomery" is a pure picture of nostalgia for the past and hope for the future all mixed in one.

6

"Everything Is Cool"

From 'A John Prine Christmas' (2009)

With lyrics that talk about "black-haired angels" and "the valley of the unconcerned" "Everything Is Cool" is the perfect anti-Christmas Christmas song, despite the fact that it appears on Prine's 2009 record A John Prine Christmas. Following the death of a relationship, Prine still sings that "everything is cool" simply because a new love has walked into his life. Prine said the "black-haired angel" is really his wife, Fiona, whom he credited with washing away all his sins and making him a new man again. We're not quite sure what makes this one a Christmas song (aside from sleigh bells that open the song and Prine's comment that his baby left him "before last Christmas"), but we are sure it's one hell of a country song.

5

"In Spite of Ourselves"

From 'In Spite of Ourselves' (1999)

Debuting on his first album since battling throat cancer, "In Spite of Ourselves" once again proves Prine's prowess as a songwriter, storyteller and performer alongside folk darling Iris DeMent. The song appears on Prine's first album of duets with exclusively female partners (the second being his 2016 release For Better, or Worse), but while the latter reveals a hilariously cynical and defeated approach to love, "In Spite of Ourselves" is all about how love prevails in spire of some of our worst habits. DeMent sings about her panty-sniffing, beer-chugging, "wacked-out weirdo" with nothing but love, proving that even the most strange relationships can work.

4

"Some Humans Ain't Human"

From 'Fair & Square' (2005)

Every Prine song paints a picture, and "Some Humans Ain't Human" reveals a portrait of the unkind. In his trademark dry wit, Prine tells us some people's hearts are made of "a few frozen pizzas," and that they are just "some ice cubes with hair / A broken popsicle / You don't want to go there." Released on Prine's 2005 album Fair & Square, "Some Humans Ain't Human" also sees Prine take a political stance, alluding to the presidency of George W. Bush and the war in Iraq in a not-so-positive light.

3

"Sam Stone"

From 'John Prine' (1971)

Tackling tough issues such as war and drug addiction is never easy, but for Prine to do so on his debut album with such poignancy and grace is truly a triumph. "Sam Stone" chronicles the struggles of a war veteran as he tries to readjust to life after physical, mental and emotional distress, and eventually turns to drugs. Prine's deft storytelling is on full display, creating such vivid imagery that listeners can see this song's titular character as if he were standing right in front of them. "Don't stop to count the years / Sweet songs never last too long on broken radios," sings Prine in the chorus, touching on common themes of the passing of time and the fading of everything in a way that seems new and refreshing … especially considering he wrote and recorded the song when he was just 24 years old.

2

"Lake Marie"

From 'Lost Dogs and Mixed Blessings' (1995)

Prine at his lyrical best, "Lake Marie" is one of the most literary songs in any genre, taking listeners through an epic tale about abandoned babies, crumbling marriages and even a double homicide. But it's not just the series of events that make "Lake Marie" so shocking and visceral, it's the decidedly upbeat music behind the lyrics and the layers of questions that only a truly great song (or any piece of art, really) can conjure. "Lake Marie" presents just enough information to leave us wanting more, trying to piece together a story with a meaning that's wide open for interpretation. Plus, if Bob Dylan lists "Lake Marie" as his favorite song by Prine, who are we to argue?

1

"Summer's End"

From 2018's 'The Tree of Forgiveness'

Prine's startlingly beautiful track from 2018's The Tree of Forgiveness tops this list because it is quintessential Prine. For almost five decades, Prine's lyrical storytelling has been virtually unmatched, combining searing and witty lyrics with careful instrumentation, and "Summer's End" is no exception. Lyrics such as "The moon and stars hang out in bars just talkin' / I still love that picture of us walkin' / Just like that ol' house we thought was haunted / Summer's end came faster than we wanted" make for a track that is both saturated in melancholy and unwavering in hope as a well-loved season of life comes to a close. And the song's simple chorus beckoning the listener to "come on home / You don't have to be alone" is made even more powerful by Prine's accompanying music video revealing the devastating effects of the opioid crisis in America.
More From KICK AM, Classic Country