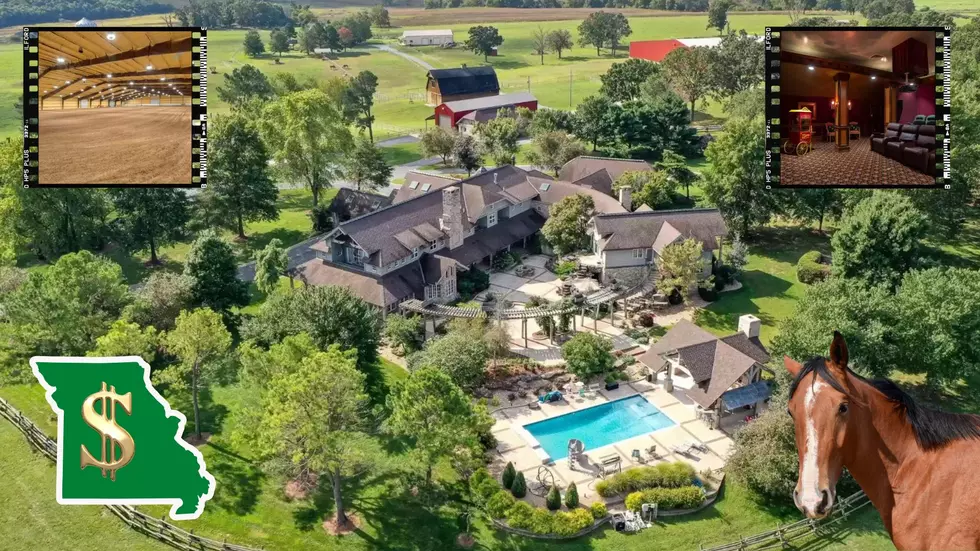 See Inside a Massive $15 Million Dollar Missouri Horse Ranch
Allen Treadwell with Hayden Outdoors Real Estate, Realtor.com/Canva
If I had horses (or I was a horse), this is the kind of place I would daydream about. It's a massive $15 million dollar horse ranch that's located in Missouri and it has every luxury you could possibly imagine.
This is the Double Down Ranch in Cassville, Missouri as featured on Realtor.com. Want a mansion with its own old-fashioned movie theater? This place has it. What about a 60,000 square foot climate-controlled arena for the horses? Check. Even J.R. Ewing on the TV show Dallas would be envious of this kind of Missouri life.
See Inside a Massive $15 Million Dollar Missouri Horse Ranch
The fine details of this Missouri place are jaw-dropping. The yellow pine beams were fashioned in North Carolina. The floors were made from a wharf in New Orleans. The description on Realtor would sound like bragging except it's true:
The Double Down Ranch is an exquisite luxury equestrian property located in the beautiful rolling hills of Missouri. Entering through the grand entrance, it becomes apparent you are in a special place. This incredible property showcases world-class craftsmanship, pristinely manicured grounds, and methodically planned equestrian facilities. The main residence, riding arena, barns, caretaker home, and equestrian facilities are on 77 acres.
This kind of life is not free. No way. Current asking price as of this writing is $15 million dollars. The estimated monthly payment on Realtor is over $80,000. Wow. But, hey, if you live like a Kardashian and want a dream home in Missouri, this is it. One of the most expensive homes available in the state and likely worth every penny...if you have it.
See a Real Missouri Castle that Even Robin Hood Would Love
More From KICK AM, Classic Country