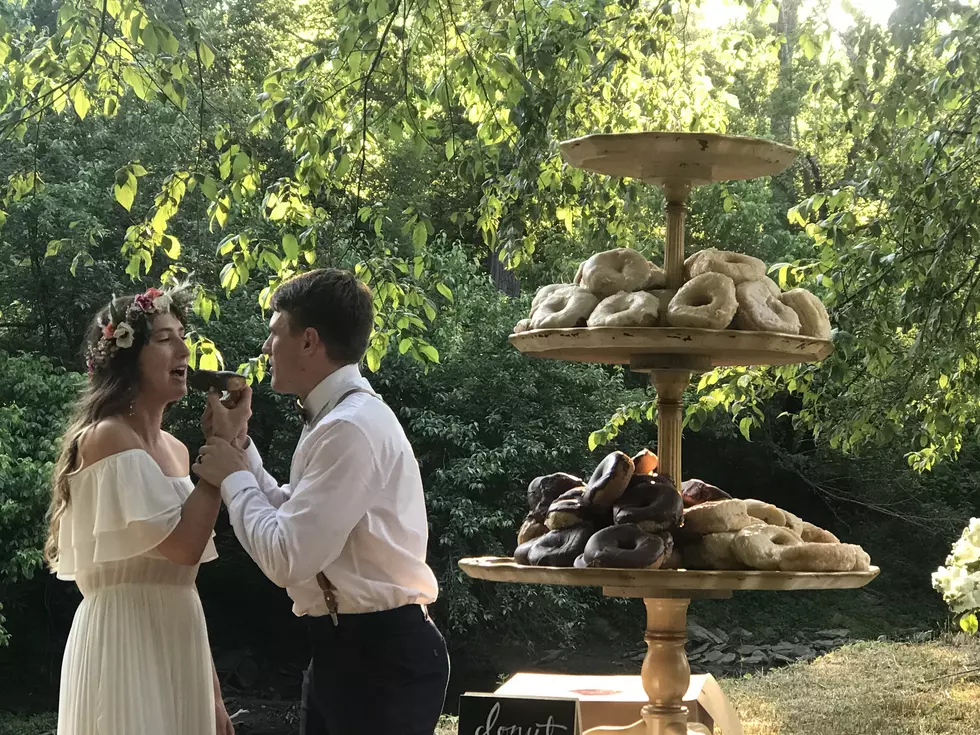 Say I Do with Dunkin' Donuts Wedding Wear
Aaron and Fiona Quinn say "I Do" with a tower of donuts.
If you love donuts, and you love your sweetie, maybe a Dunkin'-themed wedding will lead to marital bliss. You'll also need to love the combination of pink and orange, since those signature logo colors will be splashed all over your wedding accessories.
Dunkin' Donuts just added wedding merchandise to their collection of themed products for sale at ShopDunkin.com. There you will find a Dunkin' wedding veil, a snazzy Dunkin' bowtie for the groom and even a Dunkin' ring bearer pillow, for "presenting the only ring sweeter than a donut."
Dunkin' says it was inspired by being a part of so many love stories over the years and it's cashing in on the trend of weddings being reimagined in recent times.
Donuts in place of a wedding cake has been a thing for awhile now. At my nephew's wedding last summer, we chose dessert from a towering pile of donut varieties. Sadly, there was no Dunkin' Donuts coffee offered on that hot summer evening, but it turns out, donuts and champagne are a pretty good combination for toasting everlasting love.
LOOK: 15 Discontinued McDonald's Menu Items
More From KICK AM, Classic Country