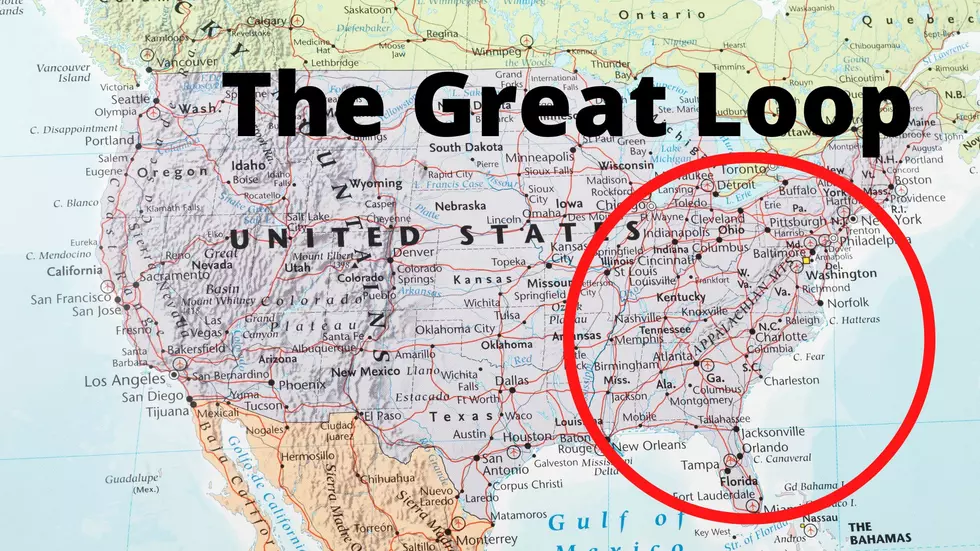 Sadly the Quincy area is 90 miles North of the Great Loop
Canva.com
The Great loop would be GREAT to be a part of but sadly for us in the Quincy/Hannibal area we are just 90 miles too far north up the Mississippi River...So what is the Great Loop and how would it benefit us if we were in it?
The Great Loop according to Wikipedia.org, is a huge waterway system that can take boaters on an incredible journey through the rivers, lakes, and ocean surrounding the eastern United States. On Wikipedia they say...
"The Great Loop is a system of waterways that encompasses the eastern portion of the United States and part of Canada. It is made up of both natural and man-made waterways, including the Atlantic and Gulf Intracoastal Waterways, the Great Lakes, the Rideau Canal, and the Mississippi and Tennessee-Tombigbee Waterway.[1] The entire loop stretches about 6,000 miles (9,700 km)."
In order to complete the loop you can start at any point, many people start in Chicago at Lake Michigan and the Chicago River, you then proceed all the way down the Illinois River to the Mississippi River, then to the Gulf, around Florida, up the east coast past NYC, into the Great Lakes, and then down Lake Michigan back to Chicago.
So where does Quincy fit in? Well, sadly for the Quincy/Hannibal area, we are about 90 miles north of Grafton, IL which is where the Illinois River meets the Mighty Mississippi, so we don't get any boat traffic from the great loop...Which is a huge bummer because think of the tourism that our area could promote for boaters who are taking the months it takes to complete the loop! Quincy has such great Abe Lincoln history, and when you couple that with Mark Twain and the beautiful downtown Hannibal area, it would be a hit stop on the Great Loop for boaters in my opinion. Would you ever dare boat The Great Loop?
LOOK: Route 66's quirkiest and most wonderful attractions state by state
Stacker
compiled a list of 50 attractions--state by state--to see along the drive, drawing on information from historic sites, news stories,
Roadside America
, and the National Park Service. Keep reading to discover where travelers can get their kicks on Route 66.
More From KICK AM, Classic Country