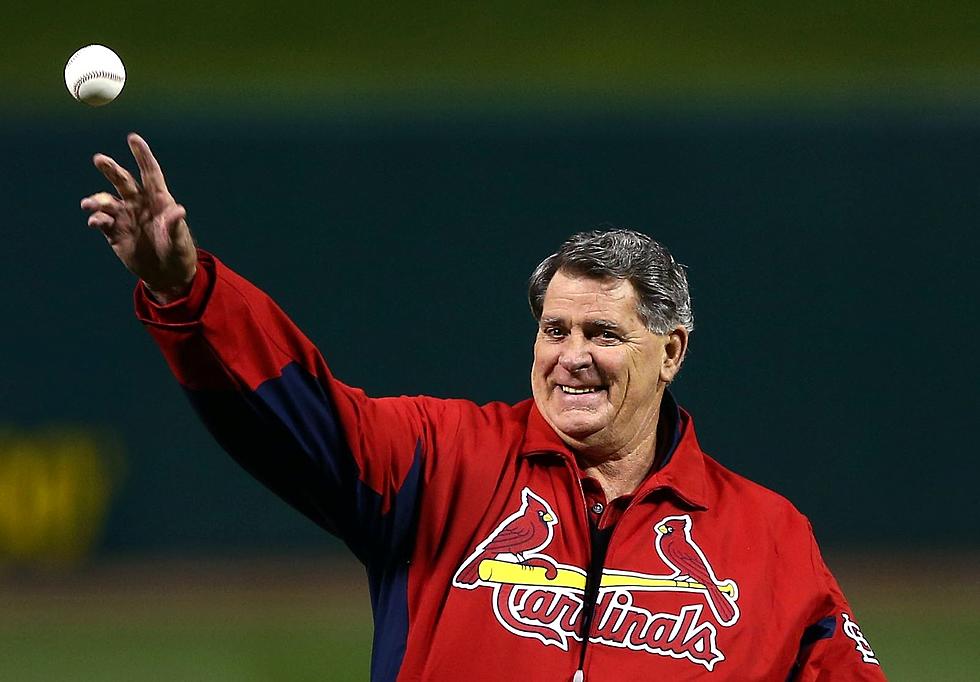 Mike Shannon's Broadcast Career is Ending – Sad or Glad?
Getty Images
Mike Shannon's 50-year career in the broadcast booth and over 60-year relationship with the St. Louis Cardinals officially comes to an end Sunday, October 3 when the Redbirds wrap up their regular season against the Cubs at Busch Stadium. (I would imagine Shannon would be a part of any post-season broadcasts, as well.)
There will be all the appropriate celebration to mark the end of such longevity - from a pre-game ceremony to a post-game party.
Mike's career with Cardinals goes back to 1958 when he left the University of Missouri to sign a minor league contract. He came to the majors in 1962, played on three World Series teams, two of them World Champions. He was forced to retire in 1970 when he was diagnosed with nephritis, a kidney disease. He stayed with the ball club as part of their promotional department in 1971.
Meanwhile, in the broadcast booth, Harry Caray had been fired at the end of the 1969 season, moving Jack Buck into the lead announcer's chair. Veteran broadcaster Jim Wood was brought in for the 1970 and '71 seasons, then he was let go and Shannon replaced him in the booth.
Thus began a 50-year run for Shannon behind the mic.
Now, if you looked at the headline and thought this was going to be a, "Mike Shannon is awful," hit piece, you're wrong.
Don't get me wrong, when he started in '72, he was pretty bad. But, he had the advantage of working with a broadcaster who I consider to be the Greatest of All Time - Jack Buck. And, Jack wasn't the sort who felt the need to be calling every inning of every game (like Harry Caray had been). So, Jack worked with Mike and yes, although he never had what anyone would call a "radio voice," he became pretty good.
In his later years, he seemed to have trouble sometimes focusing on the game at times. COVID hit him pretty hard last winter, so he's had good days and bad days this season. All that said, even with his "unique" style, no one can question Mike Shannon's knowledge and continuing passion (even at 82) for baseball in general and the Cardinals in particular.
And besides, whenever I would listen to Mike and start to think those, "I could do better than that," thoughts, they would be followed by thoughts of, "He's calling games in major league stadiums all over the country, and you're calling games in windy press boxes and high school gyms, so the guy's gotta be doing something right."
I only met Mike briefly once at a Cardinal function back in the 80s. I visited more with his wife, Lori, when she would come on KHMO to talk about Destination Travel.
So, whether Mike Shannon's last days behind the mic make you sad or glad, he has been the soundtrack to a host of great Cardinal moments - seven World Series and three World Championships, for openers - and for that, as a Cardinal fan and fellow broadcaster, he has my thanks and my respect.
LOOK: 50 images of winning moments from sports history
Sometimes images are the best way to honor the figures we've lost. When tragedy swiftly reminds us that sports are far from the most consequential thing in life, we can still look back on an athlete's winning moment that felt larger than life, remaining grateful for their sacrifice on the court and bringing joy to millions.
Read on to explore the full collection of 50 images Stacker compiled showcasing various iconic winning moments in sports history. Covering achievements from a multitude of sports, these images represent stunning personal achievements, team championships, and athletic perseverance.
A Look Back at St. Patty's Parade's
A Look Back at St. Patty's Parade's
More From KICK AM, Classic Country