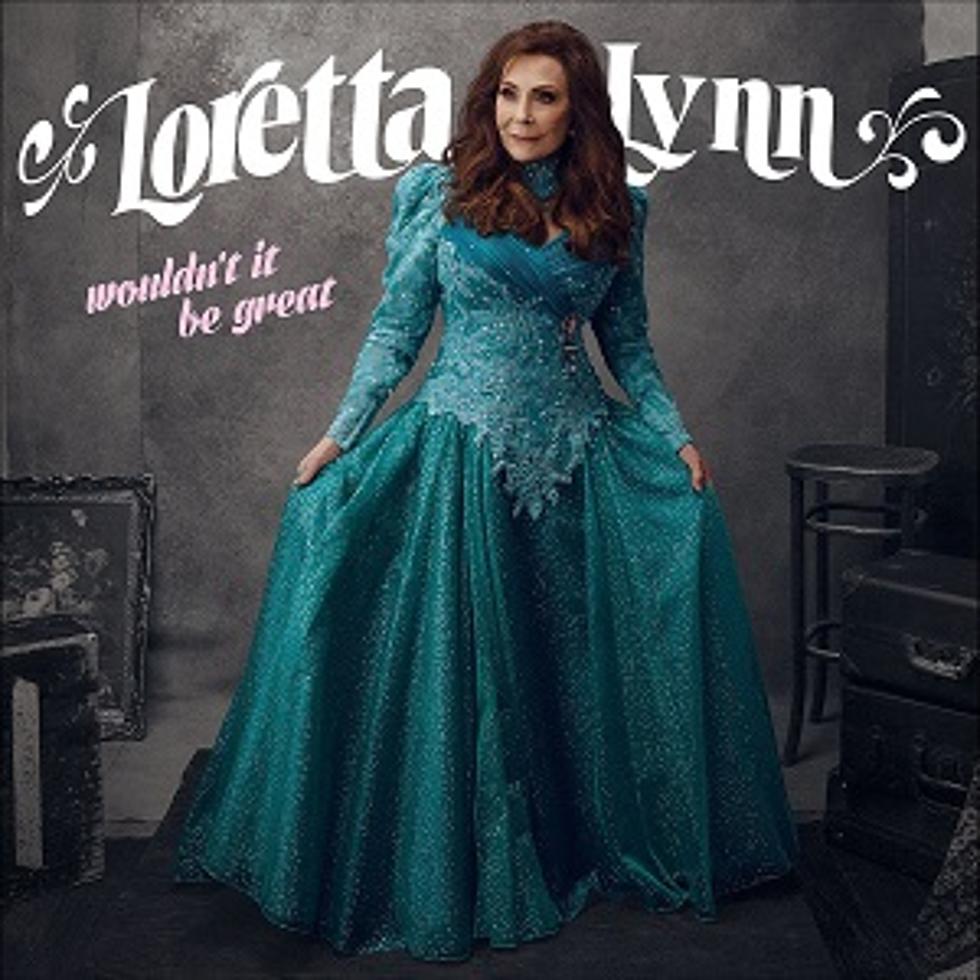 Loretta Lynn to Release 'Wouldn't It Be Great' in August
Legacy Recordings
Loretta Lynn has a new album coming this summer: The country icon has announced that she will release a new project, Wouldn't It Be Great, on Aug. 18.
The latest in Lynn's Cash Cabin Sessions series -- a set of recordings made at the Cash Cabin Studio in Hendersonville, Tenn., and produced by Johnny Cash and June Carter Cash's son, John Carter Cash, and Lynn's daughter, Patsy Lynn Russell -- Wouldn't It Be Great will feature all songs written or co-written by Lynn. Some of the songs are brand-new compositions, while others are re-interpretations of classic tunes from Lynn's catalog, including "Don't Come Home a'Drinkin' (With Lovin' on Your Mind)" and "Coal Miner's Daughter." There are 13 tracks on Wouldn't It Be Great in total; a track listing is below.
"I think you try to do better with every record you put out," Lynn says in a press release. "It's just everyday living -- and everybody wants to know, 'Well, what is it about your songs that people like?' I think you've got to tell your stories. I just think it hits everybody, you know, the songs."
Wouldn't It Be Great is available for pre-order via Amazon and iTunes. The project is being released through Legacy Recordings, a division of Sony Music Entertainment; the label also released Lynn's last album, 2016's Full Circle (the first of her Cash Cabin Sessions albums). That record was Lynn's first album in 12 years, and it earned her a career-high chart debut.
On Friday (April 14), Lynn will celebrate her 85th birthday. She'll mark the occasion with two concerts at Nashville's Ryman Auditorium, on the 14th and 15th; the press release announcing Wouldn't It Be Great reports that Lynn will also perform at the Ryman on Aug. 25 and 26. More information is available at Ryman.com.
Loretta Lynn, Wouldn't It Be Great Track Listing:
1. "Wouldn't It Be Great"
2. "Ruby's Stool"
3. "I'm Dying for Someone to Live For"
4. "Another Bridge to Burn"
5. "Ain't No Time to Go"
6. "God Makes No Mistakes"
7. "These Ole Blues"
8. "My Angel Mother"
9. "Don't Come Home a'Drinkin' (With Lovin' on Your Mind)"
10. "The Big Man"
11. "Lulie Vars"
12. "Darkest Day"
13. "Coal Miner's Daughter"
Loretta Lynn Through the Years
More From KICK AM, Classic Country