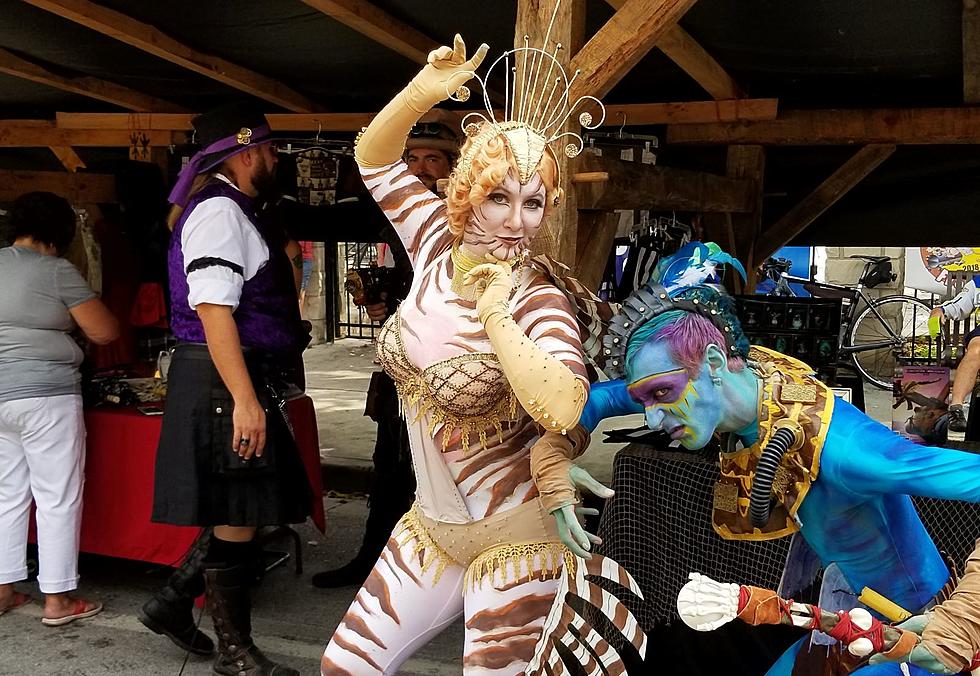 Hannibal's Big River Steampunk Festival Starts Friday
TSM Photo
What began with the desire to have some kind of a festival in Hannibal over Labor Day weekend has evolved into an area phenomenon, drawing thousands of people from all over the world.
Back in 2014, Ken and Lisa Marks at the Hannibal History Museum were looking for a fundraiser for the museum and for a reason for folks to come to town over Labor Day. And that's how the Big River Steampunk Festival was born.
Little did they know that the international Steampunk community would come to Hannibal, look around, and fall in love with the Victorian era architecture that fit right in with the era the Steampunker's celebrate.
By definition, steampunk is "a genre of science fiction that has a historical setting and typically features steam-powered machinery rather than advanced technology., a style of design and fashion that combines historical elements with anachronistic technological features inspired by science fiction."
When you come to Hannibal between Friday night and Monday morning for the 7th annual Steampunk Festival, you will find an eclectic mix of vendors, entertainment for all ages, lots and lots of cosplay, and no shortage of colorful characters.
You can get the full lowdown on the festival by going to their website.
The schedule for the 2021 Big River Steampunk Festival looks like this:
Schedule of Events for Big River Steampunk Festival 2021
Friday, September 3, 2021
12:00 Noon – Road Closures in place/Booth set up begins
6:00 pm – Society Row Evening Dinner, Riverside Restaurant, Music by The Ragged Blade Band
10:00 pm – Closing of the booths for the evening
Saturday, September 4, 2021
10:00 am – Parade from Center Street down North Main to the Steampunk Stage.
11:00 am – Steampunk Pete on the Steampunk Stage
11:00 am – Lunch at The Star Theater, Music Midnight Wanderer's followed by an amazing show that you don't want miss
11:00 am – Make and Take at Riverside Restaurant banquet room – Steampunk Dragon by Raven Designs $25.00 at the door
11:00 am – Seminar – Riverside Restaurant Patio – Rosanne Roy – Understanding The Tarot
12:00 noon – Steampunk Illusionist – Boyhood Home Stage
12:30 pm - Make and Take at Riverside Restaurant – Headband Fascinators by Family Creations - $10.00 at the door
1:00 pm – Vow Renewal with The Pope – Steampunk Stage
2:00 pm – Lady Lyric 'dAvalon – Steampunk Stage
2:00 pm – Preliminary Costume Contest – Boyhood Home Stage
2:00 pm – Make and Take – At Riverside - Artemis the Owl Candle by Eco Paper Designs $15.00 at the door
3:00 pm -Steampunk Illusionist – Dean Carnegie at The Depot
4:00 pm – Finals Costume Contest – Steampunk Stage
4:30 pm – Make and Take – The Depot – Leather Key Chain by Family Creations - $20.00 at the door
5:00 pm – Little Beard & The Scallywags at Finns Food and Spirits on Main Street
5:00 pm – Seminar by Cherry and Jerry at Riverside – "Women of Ragtime," a look at some of the best female composers and performers in the ragtime era
5:00 pm – Little Beard & The Scallywags at Finns Food and Spirits on Main Street
5:00 pm – Seminar by Cherry and Jerry at Riverside – "Women of Ragtime," a look at some of the best female composers and performers in the ragtime era.
5:00 pm – Tinkers Show and Tell and Awards – Steampunk Stage
6:00 pm – Tea Pot Races – Parking Lot Bird and Main Streets
6:00 pm – Melodrama at The Depot with The Pope and Jim Dewey
7:00 pm – Thawind Music opens for The Thieves of Flight at Tanyard Gardens
8:00 pm – Thieves of Flight at Tanyard Gardens
9:00 pm – Steampunk Ball at The Star Theater, music by Lady lyric 'dAvalon, followed by the risqué stylings of our very own Steampunk Pete and company
9:00 pm – Ragged Blade Band opening for NOWAKE at Tanyard Gardens
10:00 pm – NOWAKE at Tanyard Gardens
10:00 pm – Closing of the booths for the evening
Sunday, September 5, 2021
9:00 am – Church with The Pope on the Steampunk Stage
10:00 am – Preliminary Human and Pet Contest – Boyhood Home Stage
10:00 am - Seminar by Cherry and Jerry at Riverside – "Made in Missouri" exploring Missouri's trailblazing contributions to ragtime.
10:00 am – Seminar - Mysteries of Steam present by Magister Aloysius VonDiesel at The Depot
11:00 am – Steampunk Illusionist Dean Carnegie on The Steampunk Stage
11:00 am – Tea Dueling at the Y-Men's Pavilion
11:00 am - Make and Take – at The Depot – Steampunk Mini Journal by Raven Designs $25.00 at the door
12:00 pm – Silent Auction – at Riverside
12:00 pm – Low Tea at Riverside – Music by Lady Lyric 'dAvalon, Tarot Reading available
12:30 pm – Make and Take at The Depot – Leather Key Chains by Family Creations $20.00 at the door
2:00 pm – Finals for Human and Pet Costume Contest on the Boyhood Home Stage
2:30 pm – Vow Renewal with The Pope on the Steampunk Stage
3:00 pm – Little Beard and The Scallywags on the Boyhood Home Stage
3:00 pm – Steampunk Pete – Martial Arts Exhibition on the Steampunk Stage
3:00 pm – Afternoon Tea at Riverside – seminar by Medium Britney Buckwalter
3:30 pm – Tinkers – Show and Tell and Awards – Steampunk Stage
3:30 pm – Make and Take at The Depot – Beginning Crochet by Dana Fraedrich $5.00 at the door
4:00 pm – Make and Take at Riverside – Steampunk Keepsake Boxes by Raven Designs $30.00 at the door
4:30 pm – Lady Lyric 'dAvalon on the Steampunk Stage
5:00 pm - Steampunk Illusionist Dean Carnegie at The Depot
5:00 pm – High Tea at Riverside – Music by Thawind
5:30 pm – Silent Auction Winners announced on the Steampunk Stage
6:00 pm – Little Beard and the Scallywags at The Depot
7:00 pm – Circus Kaput at Tanyard Gardens
8:00 pm – Evening at The Star
8:00 pm – Fashion Show/Dinner
10:00 pm – Music by Midnight Wanderers
11:00 pm – Vaudeville Meriam AlaMode
9:00 pm – Gentry Blue band (formerly Dragoness) at Tanyard Gardens
10:00 pm – Closing of the booths for the evening
Monday, September 6, 2021
10:00 am – Vow Renewal with The Pope on the Steampunk Stage
12:00 pm – Benediction by The Pope on the Steampunk Stage
12:30 pm – Festival teardown begins
2:00 pm – Departure Lunch at Riverside
Throughout The Festival
Nurf Dueling in the Steampunkin Area
Tinkers at the Y-Men's Pavilion
Face Painting in the Steampunkin Area
Making of Airships at the Y-Men's Pavilion
Steampunk Coloring in the Steampunkin Area
Petting Zoo
A Look Back at St. Patty's Parade's
A Look Back at St. Patty's Parade's
KEEP READING: These are the top 6 scams connected to the pandemic
More From KICK AM, Classic Country