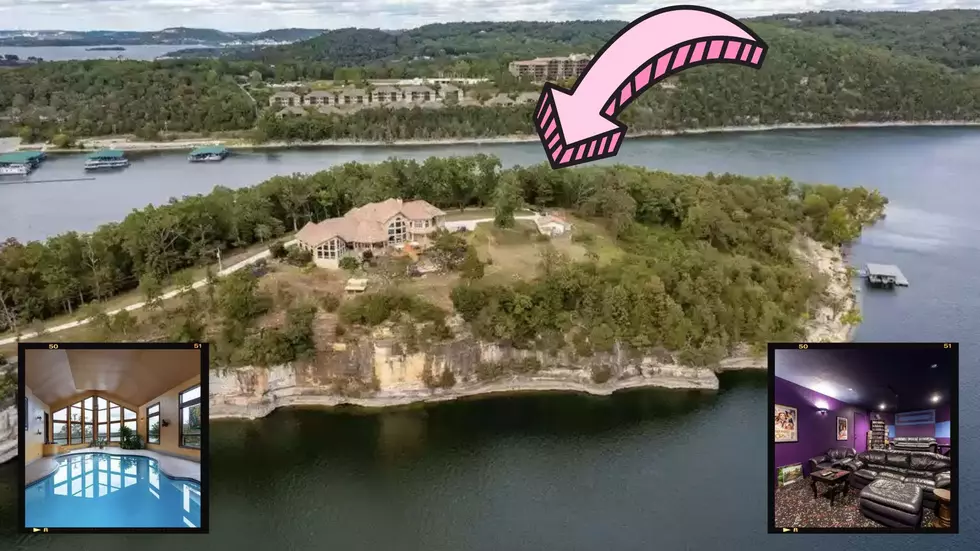 Epic Missouri Lake Mansion Has Its Own 24 Acre Private Peninsula
Booker Cox Iii, Foggy River Realty LLC, Realtor.com/Canva
I have a lot of dreams just like I'm sure you have a lot of dreams. If your visions include a mansion in Missouri's Table Rock Lake that has its own mammoth private peninsula, I may have found your place. Oh, and it has its own indoor pool and movie theater, too.
Behold the Missouri estate that is 968 Red Bluff Road in Blue Eye, Missouri. Here's the understated description from the Realtor listing of this home that stares directly into the eyes of Table Rock Lake.
Beautiful, custom built home sitting high on a private 24-acre peninsula (12 deeded acres) with a private 4 slip boat dock included. This nearly 11, 000 sq ft one-of-a-kind home has breath-taking water views from almost every room of the house, a state-of-the-art gourmet kitchen with a dual wood/gas burning fireplace oven that can rotisserie up to 60 lbs, a large indoor pool, a full bar in the downstairs game room, and a designer gym/work out space.
If a picture is really a thousand words, here are 13,000 words.
Epic Missouri Lake Mansion Has Its Own 24 Acre Private Peninsula
Movie theater, indoor pool and showers larger than my garage? What does this kind of Missouri living cost you? As of this writing, it requires at least $5,450,000. Anything anywhere near Table Rock Lake is expensive and a home this nice could probably sell for double that amount.
Fortunately looking at pics is free and there are a lot more shared on the Realtor listing. It's about as exotic as you're gonna find anywhere in Missouri.
The 1896 St. Louis "Cosmopolitan" Was a Furniture Store Pioneer
This Elsberry, Missouri Mansion Also Includes Underground Caves
More From KICK AM, Classic Country