38 Years Ago: Kenny Rogers Releases 'The Gambler'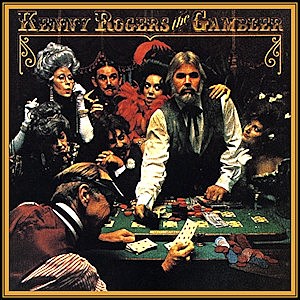 Thirty-eight years ago today (Nov. 15, 1978) was a life-altering day for Kenny Rogers. It was on that date that the singer's multi-platinum-selling album The Gambler was released.
The title track of The Gambler, which became Rogers' fourth No. 1 hit, made the now-country icon into a worldwide star.
"I think I've had songs that were bigger in sales," he notes, "but none that were bigger in identity for me. I go to Korea, and people say, 'Oooh, "The Gambler."' And it's really sweet. It's really cute. I think those are career-making songs."
The 11-track album also includes the chart-topping hit "She Believes in Me." Thanks to the success of those two songs, The Gambler landed at No. 1 on Billboard's country chart and made it to No. 12 on the pop albums chart as well. In 1979, Rogers won a Grammy Award for Best Male Country Vocal Performance for "The Gambler."
The Gambler also started Rogers on a new career path: The singer took on his first acting role, performing as gambler Brady Hawkes in the 1980 film Kenny Rogers as the Gambler, based on the success of the record. The TV movie was so successful that Rogers filmed four sequels.
Rogers, now 78, has released 23 additional studio albums since "The Gambler" and has been inducted into the Country Music Hall of Fame.
See Kenny Rogers' + More Country Stars' Yearbook Pictures

Source:
38 Years Ago: Kenny Rogers Releases 'The Gambler'